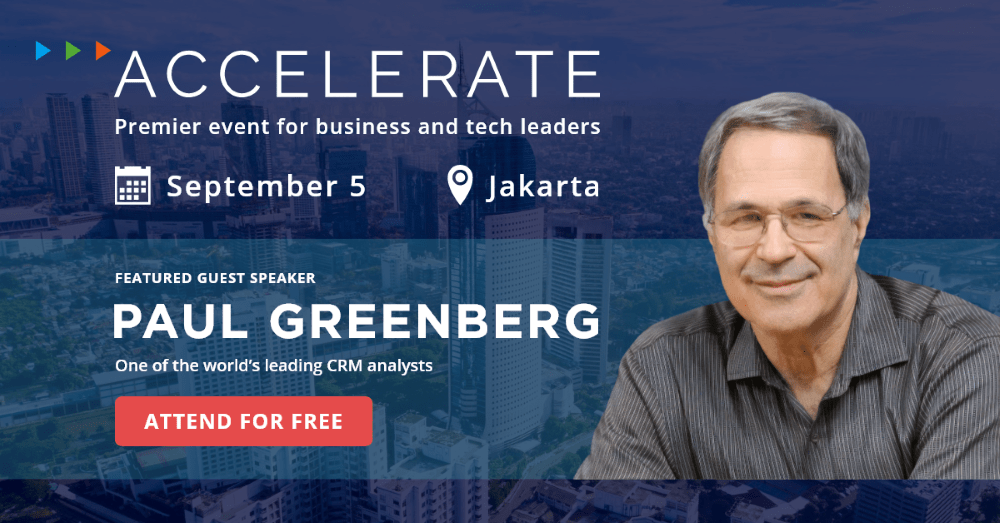 Creatio (formerly bpm'online) ACCELERATE Jakarta event 2019
AgilizTech is delighted to announce the ACCELERATE Jakarta event 2019 hosted by Creatio (formerly bpm'online). It is an insightful event attended by business and tech leaders who can discover new ways to enhance and improve their business.
ACCELERATE Jakarta event is an exclusive platform for business leaders to get insights on how to strategize and align organizational process to accelerate business growth.  In this event the key takeaways would be to get knowledgeable and inspirational cognizance on rebuilding your business with latest technology. Today digital being the buzzword for technology, explore all about BPM and CRM, the modern technology trends that help in digital transformation of organizations.
This event provides a holistic platform for business leaders not only to gain insights on innovative technology through speeches, but also a place where you can collaborate and build your network with top industry heads sharing ideas, challenges and solutions to boost your business.
The main purpose of the event is to offer expert advice on how latest technologies can help a business achieve success. You can also learn how bpm'online has helped leading companies transform their processes in marketing, sales, service and operations in just a few months to stay competitive in an increasingly dynamic environment.
Creatio (formerly bpm'online) are global leaders for business process automation and CRM. Explore how they make use of several technologies that help organizations align their business process, one of them being the low-code no-code technology which has an approach wherein 'everyone is a developer', helping accelerate business with limited IT resources.
Few of the eminent speakers for the event are:
Paul Greenberg (Guest speaker) – Referred to as The Godfather of CRM and is the leading CRM analyst focusing on customer facing strategic services.
Andie Dovgan – Vice President of Global Sales, Creatio
Alex Donchuk – Global Channel Director, Creatio
Harismawan Wahyuadi – VP Ancillary and Cargo6 PT Citilink Indonesia
Azalea Ayuningtyas – Co Founder and CEO of Dya'nyum
The event will be held on 5th of September 2019 at Westin Jakarta, Indonesia. The event is free of cost with a limited number of seats. You still stand a chance to attend the ACCELERATE event. For more details visit here.